This past August, on a cool post-rain Saturday night, I made my way towards Labone for a date night with a new guy. I had met him through the creative circles in Accra and was really excited to get dressed up with my newly installed honey brown Fulani braids, and floral print short halter top dress paired with my neon green suede sandals. The halter top dress was a special feature as it always accentuated my breasts in the most perfect way. I hadn't been on a date since July, when I had attempted a life on Tinder, so needless to say I was super excited.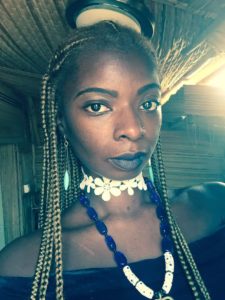 When I arrived at Badu Lounge, I did not enter the club immediately, because I was not sure if my date had arrived. As I stood outside peering into the lounge, I saw two burly men standing in the front patio. I did not greet them nor did they greet me, and I stood in front of the patio texting my date to see how far he was. As I stood around in contemplation about whether I should get us seated while I waited, my thought process was interrupted by one of the burly men.
Do you need something?" said one man while leaning over the bar rails on the front patio at the lounge.
I responded that I was waiting for a…friend and that I was not sure if he was inside. The word "friend" felt like it had come out in a staggered cacophony of sound in my ears. Equally, the word "date" would not have sufficed in a socially conservative Ghana. "Boyfriend" also would have been a lie. So, I settled on "friend".
The bouncer nodded in response, eyeing me cautiously. As we spoke, my date also responded that he was literally 5 minutes away. I decided that I would wait inside.
As I approached the main gate (walking away from the patio where the two men stood), one of the men asked me to return, saying I could not go inside. I stopped in my tracks and naturally asked why I could not enter. He slowly scanned my body (sort of in the way taxi drivers scan your body before they decide how much you can pay for a fare) and responded "A woman cannot enter alone…unless she is with a man." At this point, it had not entirely occurred to me that this bouncer assumed I was a sex-worker. Now, let me pause here and say that this is a very common experience. I have girlfriends who have entered hotel bars alone (as in, without the accompaniment of a man) and have been told that they cannot sit there because they were assumed to be prostitutes. I am also reminded of 2015, when five Ghanaian-American doctors sued Movenpick Ambassador Hotel for gender discrimination when they entered the well-known establishment to celebrate a friend's birthday and were told that they could not stay without a male escort. Unfortunately, this experience is all too common and often leaves women feeling a sense of humiliation, embarrassment and rage over what is still not ours: public space.
At this point, I stood in front of the bouncer, a little in disbelief and a bit of confusion. I responded by asking him if this was a company policy, to which he merely nodded his head in agreement.
I texted my date again to ask him where he was. I then asked the bouncer if I could "at least sit on the patio", to which he agreed. Ladies and gents, it is in this moment that it hits me that he has assumed I am here to –well, to sell pussy. I sat there stewing in my anger, when the second bouncer sat next to me and asked if I was okay, to which I responded "Hell no! Your colleague thinks that I am a sex-worker and will not allow me in the club alone!" In true Ghanaian fashion, the second bouncer began to "calm me down" and pretended as if I had completely overreacted. He asked me if the bouncer had actually said I was a sex-worker, to which I replied "He didn't have to. I'm not a fool. This happens all the time in Accra!"
At that point, a male passerby who was entering the club, approached to greet me. Initially, I did not recognize him because the anger had clouded any platonic vision I had. He then told me that he was my friend Abena's cousin. We had met a few months back when she was visiting town. I slowly began to realize who he was and explained very loudly and intentionally that they would not let me in alone because they thought I was a prostitute. The first bouncer heard it and began walking towards me yelling that he "hated people like me" and that he had "never called me a prostitute and even gave [me] a place to sit while [I] wait [for my male date]".
Can you imagine? Because the bouncer had provided me a seat outside, while still also denying me entry because of my fucking anatomy, somehow, he had convinced himself that he was a "good guy". Thus, when it occurred to him that I was unhappy with this "favour", I became an impossible woman that he could no longer tolerate. To be sure, part of my anger was my own sense of self-worth, which, in all honesty, is partly a function of my educational background and accomplishments in life thus far. I was furious that this bouncer had made a quick assessment about who I am based on how I was dressed and the fact that I was alone. As a Black African woman, I am constantly hyperaware of what my body means in public space and generally, have gone to great lengths to protect myself from public scrutiny, while also working to de-condition the parts of myself still deeply invested in respectability. Simply put, I am aware of the patriarchy that lingers in the air, but I do not bow to it. Living in Ghana, I am also reminded daily of my perceived foreigner status; most locals do not look at me and assume I am local, even if they can still see the Ghanaian in me. And yet, the fact that I am perceived as a foreigner in Ghana (read: a woman with resources), in that moment, it did not matter that I was the "girl from abroad", because I was a woman with an attitude that needed to be put in her place. I was a woman who had dared to leave her house in a less than conservative outfit, without the protection/guidance/permission of a man. The bouncer began hurling insults at me stating that he "hated people like me" and that I was a "stupid bitch".
Long story short, my friend's cousin guiltily offered to take me inside, to which, I declined. I opted to, instead, wait for my date, but not without continuing to loudly stress how unfair the circumstances were. A cussing match ensued between the bouncer and I, with me expressing outrage at the lounge's sexist and anti-sexworker policy and the bouncer denying my accusations. At one point, he became so furious that he even began approaching me as if he wanted to hit me. In turn, I was frankly too angry to be scared of this 250 pound man. I was ready to have him fired, and if it meant I had to engage in a physical altercation first, I was up for the task.
This happened all within the span of 8-10 minutes.
As my date finally arrived, the second bouncer pulled him aside to tell him to calm me down, and that I should "not speak to men in this way" and that my date needed to "warn me". As I heard this, I pulled my date away from the bouncer and we entered the club.
When we sat down, I explained to my date what had happened and he asked if we should leave. To his credit, he was very supportive about it and wanted to de-escalate the situation as best as possible. By this time, a mix of anger and pride would not let me leave. I believe in the political act of taking up public space as a woman, especially when I am not wanted in those spaces. I agreed to stay for the night and attempted to have a good time, in spite of the poor treatment.
But, I really could not shake what had just happened. As this altercation ensued, I tweeted at Badu Lounge as a way to hold them accountable for this incident. Their response left much to be desired and illustrates the ways in which local businesses do not value female customers. In response to their misogynist bouncer's treatment of me, Badu Lounge argued that the incident "must have been a misunderstanding" because they "advocate for women" and that their Lounge was, in fact, named after famous soul singer Erykah Badu. They also invited me to return for a drink, without ever once acknowledging their employee's unprofessionalism, apologizing or even pretending that they would investigate the matter.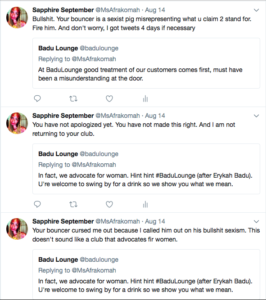 This is not enough. This is also bullshit.
I am writing this piece because I am tired of patriarchy in Ghana. I am tired of businesses like Badu Lounge discriminating against people they deem as not acceptable or respectable because of how they look, who they are or what they are wearing. I am writing this piece because I am tired of men policing women's bodies in public space. I was offended as a woman that I could be denied entry into a club because of my anatomy. And perhaps, had the bouncer not scanned my body before denying me entry on grounds of my "womanhood", I would not have jumped to my second conclusion, which is that the bouncer decided that my low-cut halter dress was evidence of my prostitution.
It is also important to note that I absolutely believe the bouncer had received orders from the employer, Badu Lounge, to "clear out" women that seemed tawdry. Badu Lounge, then, is indubitably responsible for how I was treated by their employee. However, bouncers also make in-the-moment decisions about who may not be a reputable person to have in the establishment –that is, in fact, their job. This means that the bouncer actively, consciously and purposefully decided that based on my appearance and behaviour, he could enact this policy on me. I believe that this experience is a common one, and says much about how many men in Ghanaian society continue to view women who dare to exist boldly in public space. Not once did the bouncer attempt to clear his name by giving me an actual reason for why this policy exists. Was it an issue of my safety? Surely not, as it would be his job to protect me if some one were to harm me or any other person in Badu Lounge.
Secondly, I am incensed that this man had decided (based on a quick body scan and his own sexism) that I had left my house to come and sell sex in Badu Lounge. I am outraged that his assumption (that I had come to sell sex) meant that I was no longer a respectable woman worthy of entry ALONE. I recognize that the bouncer's actions has everything to do with how we view women and sex-workers in Ghanaian society. Sex-workers are among the most vulnerable people in our societies. How they are treated has a ripple effect for how societies treat non-sex-worker women who might be perceived as "promiscuous" or "loose" based on what they are wearing. Sex-workers are seen as the bane of our society. We know that they exist and many of us have observed them on street corners in our nation's capital. Quite simply, there is a market for sex-workers, and yet we rarely perpetrate their customers for their illicit behaviour; it is always the sex-worker who is assumed to be a non-respectable woman. There is a perception that if sex-workers are kicked out of reputable establishments, then they deserved it. (Never mind that their clients are rarely charged or questioned). And yet, when it begins to happen to non-sex-worker women, I believe it is because we have failed those women who are most vulnerable to begin with. I write this as someone who supports women who choose or are funnelled into sex labour, but are not legally recognized in Ghana.
The problem with Badu Lounge's brand and business practices is that by propping some women up as "respectable" –in this case, Erykah Badu- it gives them license to position other women as not respectable. Badu Lounge's patriarchal attitude is to hi-five women with one hand, and to slap us with the other. That Badu Lounge has branded themselves as "women-positive", while also discriminating against women means that their brand is actually just hypocritical and contradictory, at best. At worst, yall motherfuckers got me all the way fucked up.
I will never return to Badu Lounge and you probably shouldn't either.
Rita Nketiah is an African feminist who has had enough.
Twitter: @MsAfrakomah
Instagram: @msafrakomah
Email: rita.nketiah[at]gmail.com