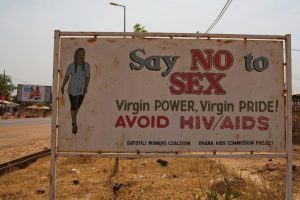 (Photo Credit: Nana Kofi Acquah)
I saw this billboard in Tamale, Northern Ghana and it reminds me of all that I hate about ineffectual sex education and bad messaging around the prevention of HIV/AIDS.
The implication is that if you're a virgin you cannot catch HIV/AIDS. Not strictly true, is it? Afterall, sex is not the only way to become infected with HIV. My other issue with this 'Virgin Power' message is that it ignores one of the biggest risk factors for HIV/AIDS in this country. Married women in Ghana are at a greater risk of contracting HIV/AIDS compared to their single sisters. Why? Simply because a lot of married women do not have autonomy over their own bodies and are unable to negotiate condom use with their husbands – husbands who very often have other wives/girlfriends/marriages. What's the point in Virgin power when your husband/partner is not a virgin?