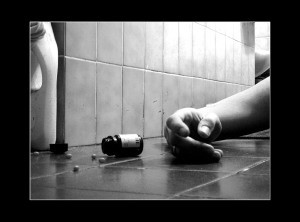 I tried to commit suicide this year. I intentionally overdosed on pain medication and the last thing I remember before I passed out was the jarring pain in my stomach, the bitter taste in my mouth and the sensation of floating out of my body. As I stared down at my round body wearing an over sized red t-shirt, sprawled on my bed with an empty bottle of pills on the floor, I wanted to burst out laughing at how surreal and ridiculous it all looked.
At the mental hospital, where I was eventually committed against my will, I refused to utter a word or co-operate with the therapist. So as a compromise, she told me to write down my feelings. One evening, as it poured outside and the rain slid down the heavily secured glass windows of the mental hospital, I took my diary, sat on my bed and wrote:
"                                                           Tues. April 2, 2013 
Dear Diary, I can't believe that I'm back here again. when I was locked up here in December, I swore that I'd never come back. I feel so ashamed that I've ended back here again. A mental ward. How will I tell my family that I'm here? I cannot tell them. It will be just like the other time, I'll call and tell them that I have been admitted for minor physical problems and that I'm fine. It will kill my mom to think that her daughter is in a mental ward. Mental wards mean that no man will marry you because we all know one doesn't marry from families with  mental health issues, epilepsy or 'barrenness'. But how is that fair when they say that majority of the women at Ankaful Psychiatric Hospital got there because of a relationship? I mean, if a relationship put them in 'that condition', then don't they have the right to demand for a new & better relationship? When you buy something from the shop and it gives you problems, aren't you allowed to return it and demand a better replacement?
Dear Diary, writing about Ankaful has made me miss home so much and yet it has also made me want to stay far far away from home. I miss home- I miss how warm & kind everyone is. Here everyone is so cold & I feel as if there's a big poster on my head saying 'black woman, handle with caution'. And I miss waakye, and hibiscus flowers and the children singing in the nursery school behind my house each morning. But I don't miss not being able to have access to a therapist unless I pay exorbitant prices. I don't miss the  many 'road-blocks' that I encountered in getting psychiatric medication  when I was in my home country.  How does everyone else in Ghana cope? My friends who have been raped claim they can't find a therapist in Ghana. They say that the therapists' numbers are not public and so you have to ask around and let everyone know that you have 'issues' before finding a therapist. And once  you find one, you have to say a prayer because he could easily turn out to be a chauvinistic dude who spends your therapy time 'advising you' (happened to someone) or someone who discloses your personal issues to your mom without your knowledge (happened to another). So how are my friends coping? And what about the wives who are battered by their husbands? How are people moving past military atrocities, terminal illnesses, heartbreaks,  depression, schizophrenia & eating disorders without professional help? How are we all surviving without professional help? Are our tight  family structures and our miracle conjuring pastors &/ or self-appointed counselors enough to solve our mental illnesses?
Dear Diary, I promise never to do this again. I know that you don't believe me because of all the times I promised to stop and failed. Like the first time I sliced a razor blade deep into my upper arm and watched the blood ooze out. It felt so good because I couldn't feel any emotions! I was numbed out like I was on the best pain medication. For a while, I was able to block out the flash-back memory of myself kneeling down between my uncles legs, bobbing my head and making slurping sounds while he moaned. I was even able to forget how his dick felt in my mouth and how he laughed as I struggled to take his entire length in my seven year old mouth. And so I started cutting myself whenever I had flashbacks and nightmares. And you must also believe me, Ms. Diary,that there were good reasons why I tried to kill myself previously. I can't talk about the second time I tried to commit suicide because it is too personal & hurts too much to even write but you know about that first time right? The day my professor said that all gays & lesbians should be executed and the whole class applauded. Ah, but after I sat there, knowing in my heart that I was bisexual & (if I were being honest, way way more towards the lez side of bi than the straight side)  how did you expect me not to want to die & make the professor's wish come true?"
Then I closed my diary, yawned loudly and slept. It was a cold night and I was grateful for the warm hospital blankets.