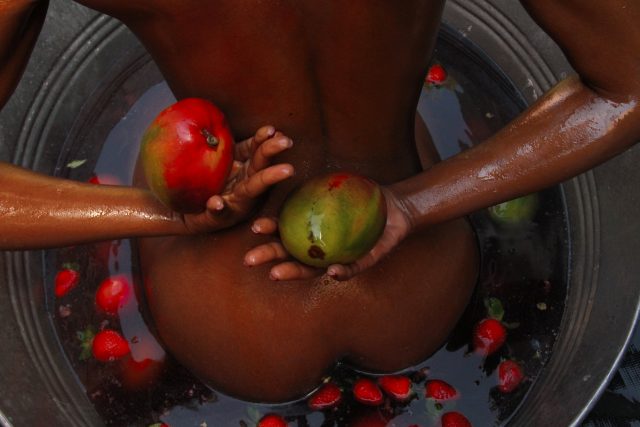 Every wondered how two womxn truly f**k?

Chances are it isn't always what you think. Even though the internet space bombards us with all sorts of problematic porn, depicting strange, often impractical ways, that women are sexing other women sometimes it gets it a little right, but often it does not begin to scratch the surface.
How women have sex with each other is something that remains somewhat of a mystery and it gets more and more mysterious once you start adding handcuffs, toys and sometimes, other people.

Everyone needs a little peep behind the curtain and this is what Dark Juices & Afrodisiacs; Erotic Diaries Vol 1 does. A collaboration between HOLAAfria and GALA, and curated by Bel South this inaugural diary brings together the womxn from around the continent. The authors have written some sexy stories, prose and poetry that are wet and wild, sexual and sensual, flaming and flirty. From Kenya to Zimbabwe, from Nigeria to Botswana. Dripping with desire, these tales sought to let people into the little known sex lives of queer women and gender non-conforming persons from within Africa.

Set to a backdrop of erotic photos taken by Siphumeze Khundayi, with her muse Chido Muparutsa, there are stories of gyrating bodies at reggae bars in Addis, wanting to cup a sex workers' ass at Nairobi's sexiest event and self-love at the end of a long day. There are stories of low seduction over an anniversary weekend; out-of-the-bedroom sexting, a first orgasm and much more. Some of the amazing people in this anthology include Maneo Mohale, Amanda Hodgeson, Natasha Joseph, Fadzai Muparutsa, Safia Khan, Chinue Igwe, Nqabisani Mahlahla, Lyricnotic, Kare and others.

This is something to learn from, something to read out loud, something to share, something to masturbate to.

The entire publication is available to download in a series of formats: double page spread and mobile friendly version (best used on Adobe for phone)




Photo credit: Siphumeze Khundayi
Model: Chido Muparutsa